Post by Ex on May 3, 2021 22:15:17 GMT -5
Disclaimer:
These are my personal opinions and I don't expect anyone else to agree with them.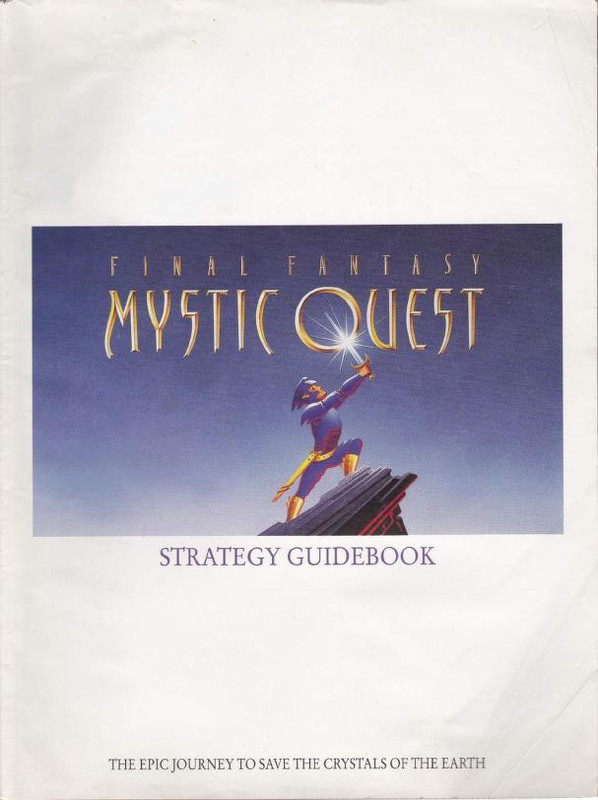 TOP 5 REASONS I DON'T LIKE STRATEGY GUIDES OR WALKTHROUGHS

Number 5: They encourage bad business practices and subpar game design.
It's no secret that some games of yesteryear were overtly designed to require a guide to beat. An official guide that you could conveniently purchase right alongside the game itself. That didn't necessarily mean the game was "unbeatable" without the official guide, but it could be seriously cryptic without it. This was on purpose so the publisher could make double money, and it encouraged bad game design that relied on said guide. Eventually the internet and sites like GameFAQs put a dent in official strategy guide sales. (Retail print guides are still a thing today though.) However, we've seen such online sites act as a crutch for bad game design to rely on regardless. It's been more than once I've seen a developer tell players to "go check a guide", when called out on frankly bad game design that left players scratching their heads. Sometimes even to get around bugs or glitches! It's better to encourage the developer to improve their game with a patch, than to let the developer take the easy way out pointing to someone else's guide.

Number 4: Spoilers!

Following a guide in tandem with a game you've never experienced before? There's a good chance you're going to ruin every surprise and plot revelation before it happens in the actual game. It's too easy to read ahead as you scan for the next pro-tip, because that pro-tip is likely buried within overly revealing context. Most guides don't bother at all to issue spoiler alerts, and even the ones labeled "spoiler-free" rarely are. I for one like my surprises to stay surprising, and the unknown to stay unknown, until I discover it all myself.

Number 3: They create unnecessary busy work.
Fear of missing out. That's one of the big reasons people slavishly play games with a guide in tow. They are terrified of missing out on any little bit of content. Be it optional dungeons, super powerful gear, hidden party members, or additional plot exposition. Here's the thing, if it's so hidden you need a guide to find it, chances are you don't need that stuff to actually beat the game. And chances are that extra plot fluff isn't integral to the core story. It's more likely you'll burn yourself out doing the mundane busy work required to access the hidden extras. Or you'll acquire such powerful optional gear, that the rest of the game will be a boring breeze offering no interesting challenge as a result. Save yourself from the grind, mind-numbing check off lists, and lack of challenge - if it's optional and hidden, you likely won't need it.

Number 2: I want my gaming experience to be MY gaming experience.

If I follow a guide to beat a game, doggedly doing what the guide says to do, in the order and way the guide says to do it... did I really play the game myself? Or did I moreover engage in an interactive "Let's Play" by proxy? Is a cloned playthrough at all unique? But what if I played that game all on my own instead? Sure, I might miss a few things, like the "best sword in the game", or maybe not use the "most optimized combat strategy", and perhaps not get the "best ending"... who cares? I think it's far better that my own playthrough was my own. I did what I did, not what a guide did. The moment to moments and overall outcome of the play experience were all uniquely my own as a result.

Number 1: Frankly it's cheating.
You're stuck at a boss, so you consult a guide. You get lost in a maze, so you consult a guide. You can't figure out how to intelligently exploit a complex level up system, so you consult a guide. At what point does all this artificial external aid devolve from "helping" to "cheating"? If I "solve" a Rubik's Cube by following somebody else's step-by-step solution, did I truly solve that Rubik's Cube? Or did their solution actually solve it? If you beat the final boss using that ultra powerful optional gear, with the strongest optimized party, utilizing the most exploitative combat strategy - if you used all those things to beat the game, yet only had those things because a guide somebody else wrote told you how - did you truly beat the game yourself? Well I say you didn't. I say the guide did. I say you copied someone's else's cunning and tactics and emulated their prior accomplishment. That's no proud win in my book. And completely "playing" through an adventure game with a walkthrough? Come on, man.

Exceptions? Sure, exceptions.
Some people immediately, instinctively even, grab a guide when they start a new game. They then play that game lockstep with the guide until the credits roll. I don't do that for reasons I explained above. But that doesn't mean I don't begrudgingly (RARELY) resort to using a guide for artificial aid. I only do it as an absolute last resort, when I completely get stuck in a game, for a considerable amount of time. And by stuck, I mean I simply don't know where to go, or what to do, to advance the plot. (No I'm not talking about getting stuck in a maze or on a hard boss.) This usually only happens in an archaic story driven RPG. Though sometimes it happens in puzzle driven adventure games. I love 8/16-bit JRPGs, but we all know sometimes 8/16-bit JRPGs conveniently forget to tell the player where to go, or who to talk to, to trigger the next plot advancement. And anyone who's played an old adventure game with bonkers byzantine "puzzles", knows about putting a pulley in a rubber chicken. So I don't blame anyone who would use a guide sparingly to get passed the occasional hiccup in opaque game design.
That said...

I don't respect using a guide religiously to beat a game in totality. Because in my book, that's plain ol' cheating. Look I've beaten many a "hard" RPG, all on my own, without ever touching a guide.* Chances are I'm not some kind of super gaming god, but rather I'm just stubborn and determined. When you mix determination and stubbornness together, you get a magical thing called
gumption
. And there's no video game that gumption can't beat. Guide-addicted gamers might be surprised what they can accomplish with a little gumption of their own. Forget the guides. Enjoy a growing sense of self-reliance. Hard won victories are so much sweeter.
*Just a few RPGs I've beaten without ever touching a strategy guide or walkthrough for them, and you can too:
Brandish: The Dark Revenant
Brandish 2: The Planet Buster
Breath of Fire 1 & 3

Dragon Quest 1, 4, 5, 8, 9
Etrian Odyssey Untold: The Millennium Girl
(Expert mode)
Fallout (series)
Final Fantasy Tactics
Final Fantasy XII

Front Mission (series)

King's Field (series)
Phantasy Star (series)
Quest for Glory II: Trial by Fire

Shadow Tower (series)
Shin Megami Tensei: Devil Summoner: Soul Hackers (3DS)

Shin Megami Tensei: Nocturne (PS2)

Tactics Ogre (PSP)

Vagrant Story
Valkyrie Profile
And many more...